Thoughts on House Decorating,
by Walter Crane
An excerpt from "Ideals In Art: Papers, Theoretical, Practical, Critical, by Walter Crane,
London: George Bell & Sons, 1905, p. 132.
---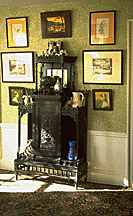 Few interiors are more pleasant than the white-painted panelled rooms in eighteenth-century houses, a mode which some modern architects have revived with much success. There is nothing like white paint for the wood-work of modern rooms. It is the best set-off to wall-papers, and though many attempts have been made by house painters and decorators to get variety of effect by repeating in the styles and panels of the doors some leading tint of the wall-paper, the eye soon tires of the rather restless result, and welcomes plain white flatted paint, leaving it to the mouldings to give the necessary relief.

Door panels are often considered suitable fields for painting or other decoration; if, however, door panels are emphasized in this way, the walls would have to be quiet in pattern and colour, so as to let the doors tell as the chief decorative points; in such a scheme they would naturally be balanced by a painted treatment of a wood mantelpiece and connected by a chair rail and a panelled dado, or wainscot; on the other hand, with a richly patterned and coloured wall the wood-work, if painted, should be kept plain colour.
---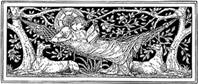 Return to Founders of the Arts & Crafts Movement Page
---
\This page is sponsored by J.R. Burrows & Company, Historical-Design Merchants. Please visit our home page to see our reproduction Arts & Crafts Movement wallpapers, fabrics, lace curtains and carpets.
---

J.R. Burrows & Company
P.O. Box 522
Rockland, Massachusetts 02370
E-mail: merchant@burrows.com
Phone: (800) 347-1795; Phone: (781) 982-1812 Fax: (781) 982-1636