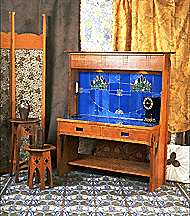 New England Artisans Guild:
Arts & Crafts Movement Furniture, Craft and Design
The New England Artisans Guild is a loosely banded group of craftsmen and women whose work revives the styles and philosophy of the Anglo-American Arts & Crafts Movement.
"ART IS THOUGHTFUL WORKMANSHIP"
W.R. Lethaby, 1915
"Another phase of the reaction from the modern type has been an excessive regard for old things, so that original workers have not had a fair chance of maintaining the full traditions of their arts.... At the present moment people who would like to do things in the best way would be well advised to have what they require made by capable men in modern forms."
From "ART AND WORKMANSHIP" by W.R. Lethaby, 1915.
LIST OF MEMBERS

Members With Web Pages:

John Burrows
J.R. Burrows & Company
P.O. Box 522, 393 Union Street
Rockland, Massachusetts 02370
Telephone: 617 982-1812 or 800 347-1795
E-Mail: merchant@burrows.com
Web Page: http://www.burrows.com
Specialty: William Morris carpet, C.F.A. Voysey and other English Art Wallpaper, Candace Wheeler furnishing fabric.

Kevin Rodel and Sue Mack
Mack & Rodel
44 Leighton Road
Pownal, Maine 04069
Telephone: 207 688-4483
E-Mail: macrodel@aol.com
Web Page: http://www.neaguild.com/macrodel
Specialty: Cabinetmakers; work inspired by C.R. Mackintosh, Frank Lloyd Wright, Charles Limbert and American Arts & Crafts Movement Designs.

Sarah Wildasin
United Crafts
127 W. Putnam Ave., Suite 123
Greenwich, Connecticut 06830
Telephone: 203 869-4898
E-Mail: merchant@ucrafts.com
Web page: http://www.ucrafts.com
Specialty: Embroidered linens and accessories, bronze candlesticks and Arts & Crafts Movement dinnerware.

Members Without Web Pages

David Berman
Trustworth Studios
P.O. Box 1109
Plymouth, Massachusetts 02362
Telephone: 508 746-1847
E-Mail: voyseyboy@trustworth.com
Specialty: furniture, lighting and needlework; a specialist in reproducing the furnishing designs of C.F.A. Voysey and other English cabinetmakers. He is also the proprietor of Sconehenge House Bed & Breakfast in Plymouth, Mass.

Carol Mead
Carol Mead Wallpapers
434 Deerfield Road
Pomfret Center, Connecticut 06259
Telephone: 680 963-1927
Specialty: Wallpaper and borders, custom wallpaper reproduction, stationery and paintings and decorative arts accessories. Patterns include C.F.A. Voysey designs.

Charles Nazarian
Charles L. Nazarian, Inc.
956 Washington Street
Gloucester, Massachusetts 01930
Telephone: 978 281-4448
Specialty: Architectural woodworking, Lighting, liturgical interiors and furnishings in the tradition of Boston architect Ralph Adams Cram. "The Hired Pen" architectural graphics consultant for residential remodeling.
---

This page is sponsored by J.R. Burrows & Company, Historical-Design Merchants. Please visit our home page to see our reproduction Victorian wallpapers, fabrics, lace curtains and carpets. Comments, and calendar events should be addressed to merchant@burrows.com